KODAK GALLERY : A mini foto book for free !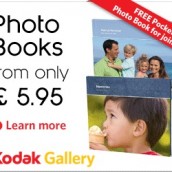 Register with Kodak Gallery and receive a free Photobook. This great photo book offer is ideal to get a fisrt impression with photo books. If you are not yet a customer at Kodak Gallery, this free small photo book offer is for you : register now at Kodak Gallery UK and recieve your free photo bool (only pay for the delivery). Personalize this 5″ by 5.75″ free photo book with your personal pictures, and choos the perfect picture for it's sharp and nice soft cover !
Free photo book (size :

5″ x 5.75″

)
Free photo storage (for 12 monts, see conditions on Kodak Gallery's website)
Free photo sharing
Tips tools ans project ideas to get you started
Simply notice that, this offer is not cumulative, in other words, you have to choose between the 50 free photo prints and the free photo book offer when you register à Kodak Gallery for the first time.